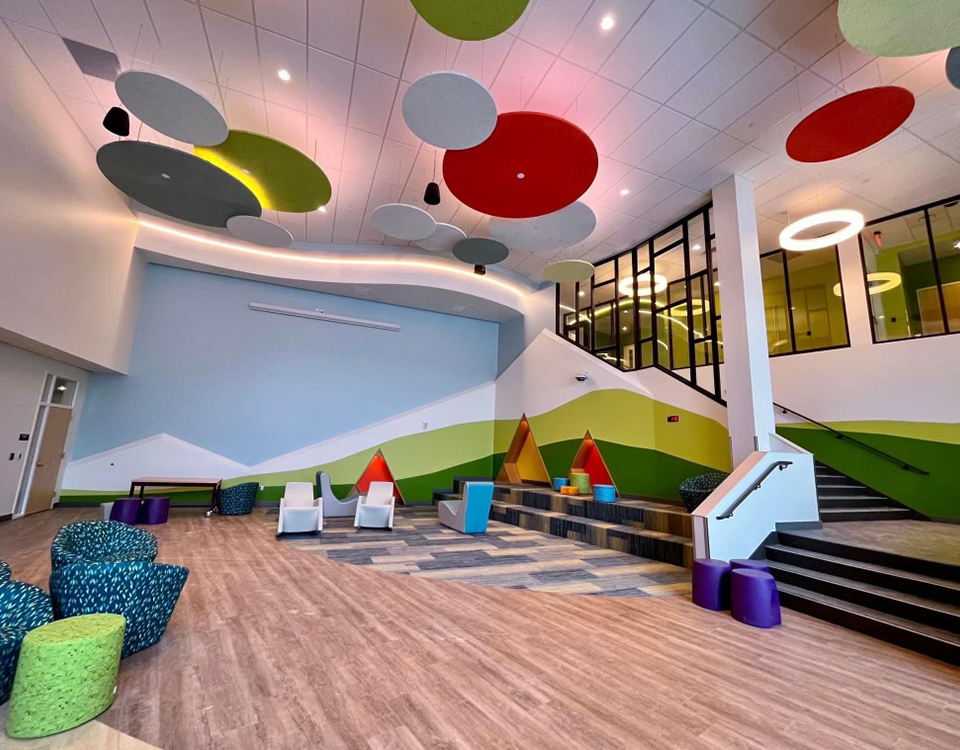 Breaking Down Barriers with Intentional Design
August 2, 2023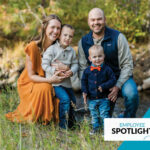 Employee Spotlight: Jaclyn Haven
August 4, 2023
Introducing Banksy, Shodair's New Facility Dog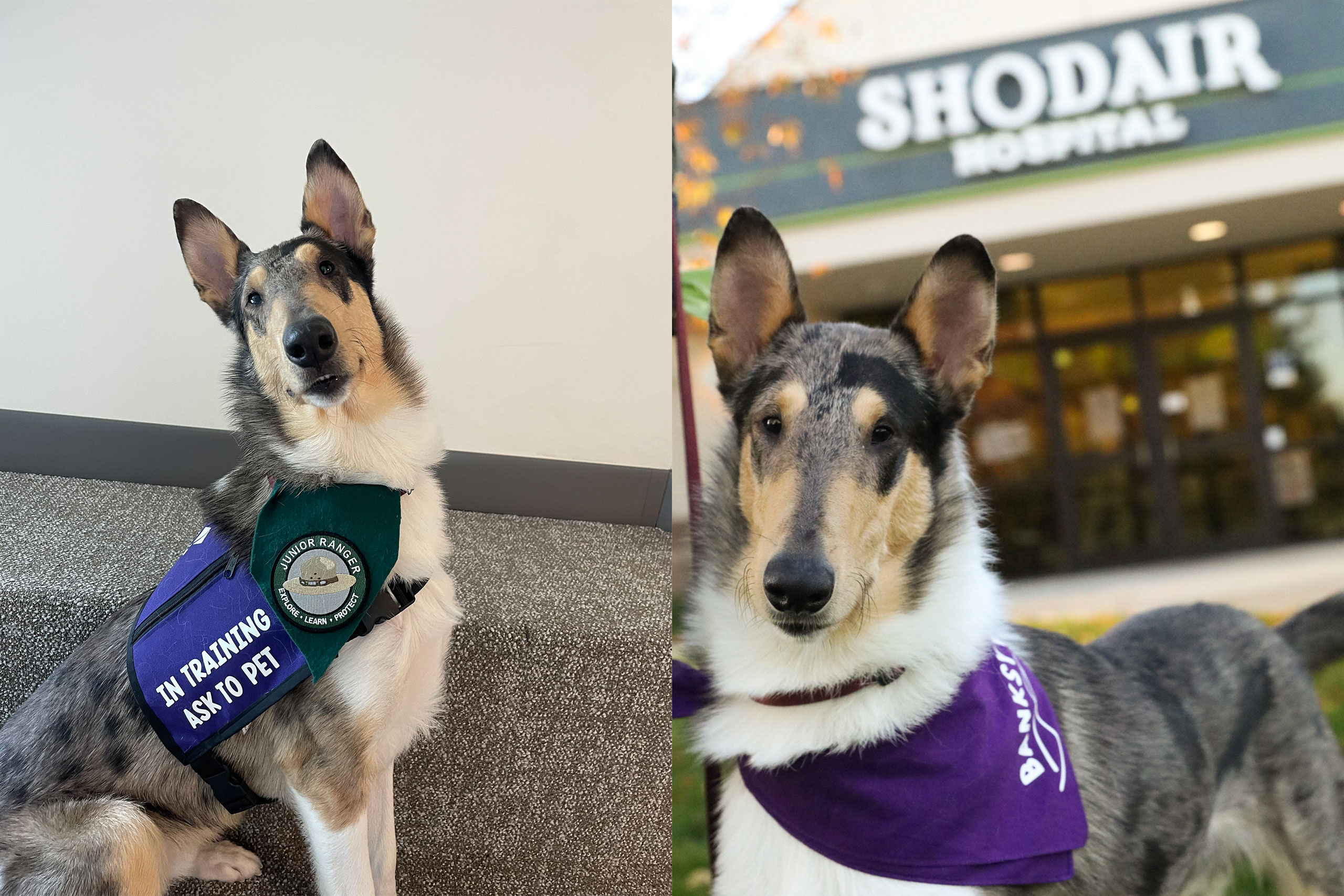 Joy-bringing, people-loving, giant dork, pencil face – a purebred Smooth Collie standing two feet tall and marked by a mischievous, yet charming grin, Shodair's new facility dog, Banksy, is making waves (and earning nicknames) across the patient floors of Shodair Children's Hospital. And for good reason! At just a year-and-a-half old, Banksy has already earned his AKC Canine Good Citizen title and, though still in training, has proven to be a welcome comfort to patients through anxious and challenging times. The real work, however, won't quite begin until Banksy has completed his two-year training program at Carroll College – where he currently spends about 20 hours each week.
While Shodair has had a Facility Dog Program for years, this will be the first time that a facility dog has been trained both in partnership with Shodair staff and solely for the purpose of meeting Shodair's unique needs. In other words, Banksy is a really big deal and is paving the way forward for the future of Shodair's existing program. And not just for ours! While the Anthrozoology Department at Carroll College has a vast resume in training shelter dogs, Banksy will be the first graduate of their program specifically trained for a psychiatric children's hospital like Shodair.
"There aren't really a lot of models out there for training facility dogs, because every place is so unique," said Bridgette Wiegand, Shodair Certified Residential Recreation Therapist and Banksy's primary handler. "Whereas our previous facility dogs were trained elsewhere to meet general facility needs and then placed at Shodair, we, alongside the students at Carroll College, are working really hard to train Banksy to respond to and meet the environmental needs and circumstances specific to Shodair and our patients. It really is a pretty unique opportunity."
Born and bred in Washington, Banksy comes from a previous line of working facility dogs and was specifically chosen for his "rock-solid temperament" – a characteristic that was already evident even before his first arrival at Shodair as a nine-month-old puppy. While Collies can often be prone to mimicking the emotions of their owners, Banksy's behavior is just the opposite.
"In addition to just loving people (almost to a fault), Banksy has a rock-solid temperament where there really is not much that scares him," said Bridgette. "He recovers very fast and is often in tune with people's emotions – providing a calming presence when others are anxious. And the kids feel it, too! I've already seen some of our more challenging kids instantly relax and melt into Banksy as he takes a spot on their laps. It's Banksy's non-judgmental presence that really allows patients to be authentically themselves."
When Banksy is not at Carroll College studying away and learning various therapy techniques like gentle greeting, anxiety alert, and deep pressure therapy, he can be found at home playing an intense game of tug-of-war, alongside one of his three designated handlers, excitedly shredding cardboard, or running with patients up and down the halls of Shodair's new hospital building (one of his favorite activities). Though Banksy's current training schedule only allows for one weekly visit to Shodair, upon his graduation next May, Banksy will be a fully-certified facility dog and work at Shodair for four days each week – providing comfort to individual patients, actively participating in group therapy sessions, and accompanying patients on regularly scheduled recreational outings.
To learn more about Banksy and our partnership with the Carroll College Anthrozoology Department, follow along on our social channels, where we will be sharing regular updates on Banksy's training, progress, and various adventures around Shodair!