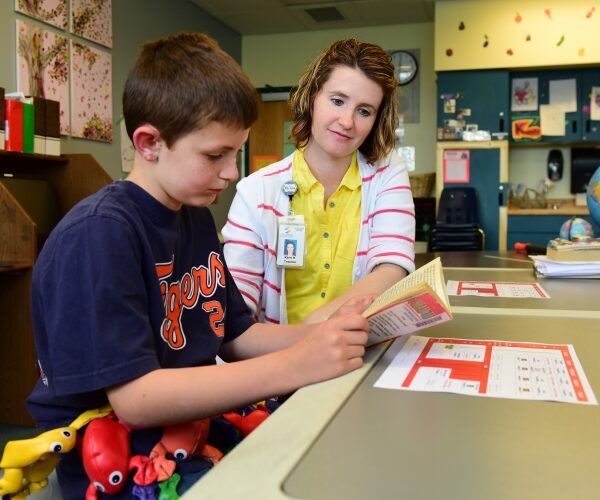 School is a significant part of a child's life. For some children, school is a stressor, and for others a place to be engaged in their education and to flourish. Our intention is to provide educational support that takes into consideration the factors that led to the child's admission, but also to ensure an individualized education that will build on skills and promote a positive learning experience.
The School at Shodair is accredited by AdvancED Montana/Northwest Association of Accredited Schools and operates year-round. This allows students an opportunity to work in academic areas as needed or make up missed credits. All teachers are certified and have a special education endorsement. The School at Shodair has a certified school administrator who serves as the education director.
An essential part of the School at Shodair is the utilization of the Positive Behavioral Intervention and Supports (PBIS) model, or as it is known in Montana, the Montana Behavioral Initiative (MBI). This is a research-based educational model that utilizes "best practice" in all aspects of the learning process and relies on clear expectations, positive relationships, and active, positive student engagement. More than 500 public schools in Montana have implemented the Montana Behavioral Initiative, which helps the School at Shodair provide a strong continuum from the home classroom and back again.
School in the Residential Units
. . .
In the residential units, the School at Shodair consists of primary, intermediate, and secondary levels. Each level has two special education teachers and one assistant. Coupled with information provided by the child's home school, instruction is provided at the level of successful engagement. Along with academics, the education staff works on social skills, language skills, and behavioral skills that will help children be more successful in the classroom. Instruction is provided by a variety of means that includes whole group, small group, and individual approaches. Close attention is paid to appropriate pacing and a variety of activities that ensure active student engagement. The four "universal expectations" of be safe, be respectful, be responsible, and be a learner are an integral part of the student's educational experience and provide the framework for all learning.
Shodair educators are responsible for contacting the child's previous school every two weeks to keep school administration up to date on the student's progress. Home schools and parents/guardians are invited and encouraged to participate in regular educational meetings, including special education meetings and treatment team meetings. During the student's time at Shodair, education staff attend regular rounds and treatment plan meetings and are active participants in the child's overall treatment plan. When the student is ready to be discharged from treatment, the education staff will host an exit review conference with the child's multidisciplinary team at Shodair to ensure the most positive transition possible for the child back to their receiving school setting.