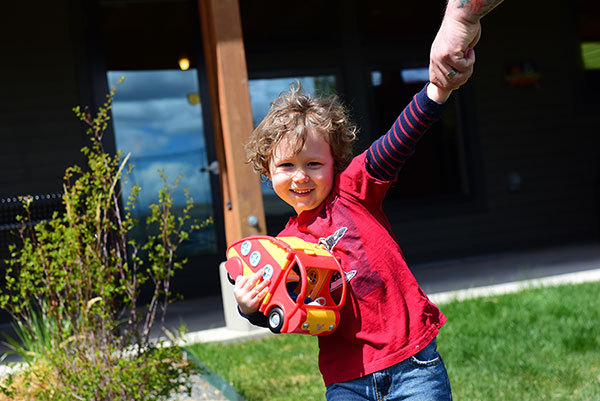 Trauma Informed Care Benefits Everyone
July 17, 2020
Kat Ballenger was a psychiatric nurse at Shodair Children's Hospital for nearly three years.
She first came to Montana as a travel nurse and enjoyed the Helena area. That coupled with her love for working with children made her decide to stay for several years.
"I loved working with the children at Shodair. You learn something new from them every day," Ballenger said. "I wish I didn't have to leave."
According to Ballenger, she liked Montana but loved the kids she worked with. She first decided to travel as a nurse after injuring her knee while working in a Texas emergency room. She would go on to travel from her home in San Angelo, Texas to Amarillo, Texas. She would then go on to spend time in Sioux Falls, South Dakota and then Helena.
Ballenger said her daughter was mauled by a dog at the age of 4 and Ballenger enjoyed the work that went into taking care of her. Ballenger decided then that she wanted to learn how to take care of people. Over time she found her way in to psych nursing, which was her favorite kind of nursing. According to Ballenger, the most important characteristic of a good nurse is having compassion and empathy.
"You have to want to help people," Ballenger said.
Ballenger believes that psych nursing takes even more empathy and compassion than other kinds of nursing she has done in the past. Ballenger said she even took a pay cut to keep working with the kids at Shodair.
"The drive to change someone's life," Ballenger said. "That is where nursing should start."
However, being a psych nurse isn't an easy job. She said the work can be emotionally draining, especially during the time of COVID-19.
"You're often the sole person these kids have," Ballenger said. "Sometimes you just have one person that appreciates you for it, and that makes it all OK."
Ballenger said that seeing the difference she has made in the life of her patients is what keeps her going as a nurse. She enjoys giving them a listening ear, building a community with them and helping patients progress.
Ballenger has since moved back to San Angelo, Texas to be closer to her family as she goes through a second battle with cancer.
"Kat is one of the most knowledgeable and compassionate nurses I have met. I have had the honor of working with her for over a year now and I haven't met anyone that loves teaching other people more then she does," Casee Conant wrote in her nomination for the nurse appreciation award. "She is a mentor to many and leads her staff to success everyday."