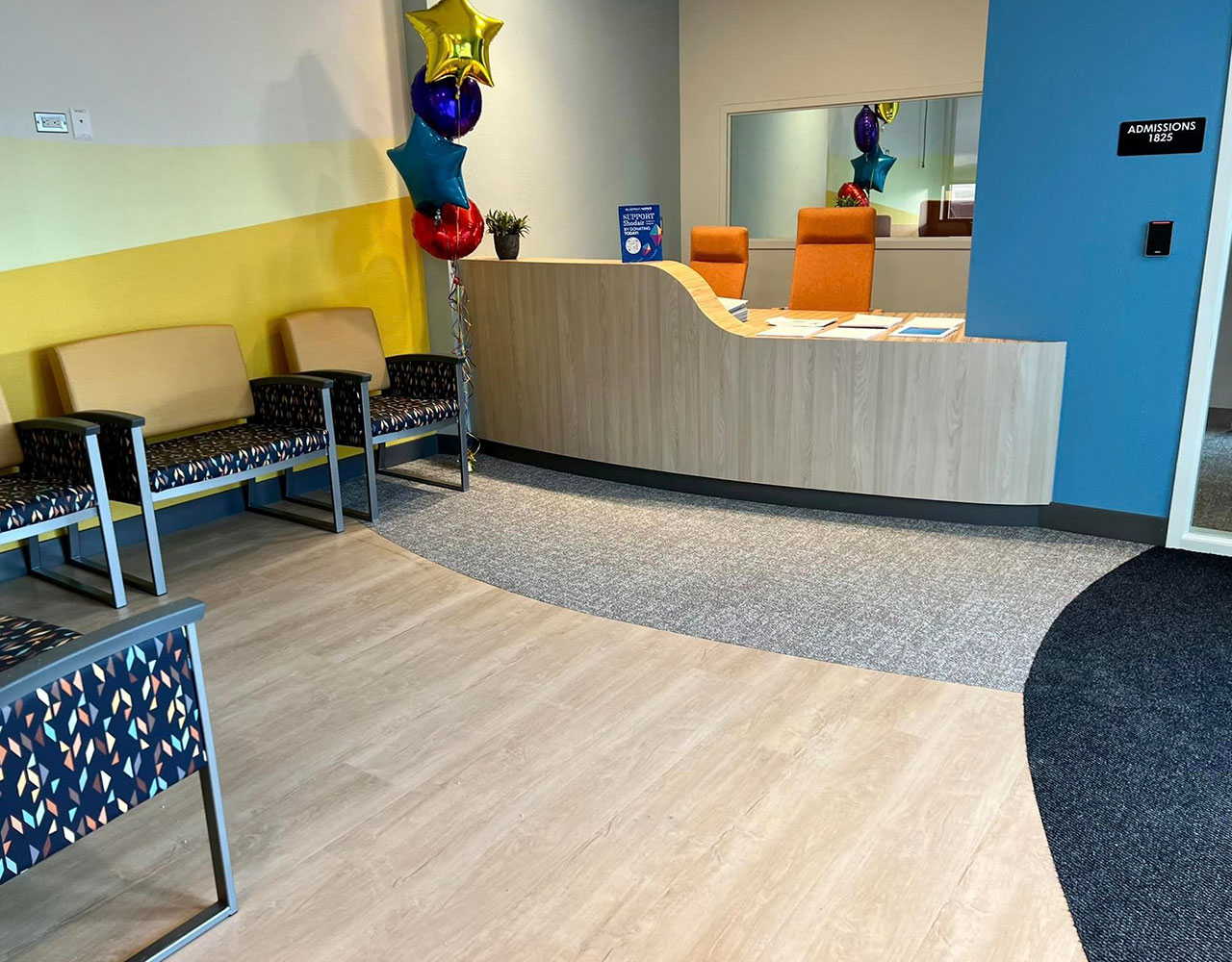 Making Moves: Transitioning into Our New Building
July 21, 2023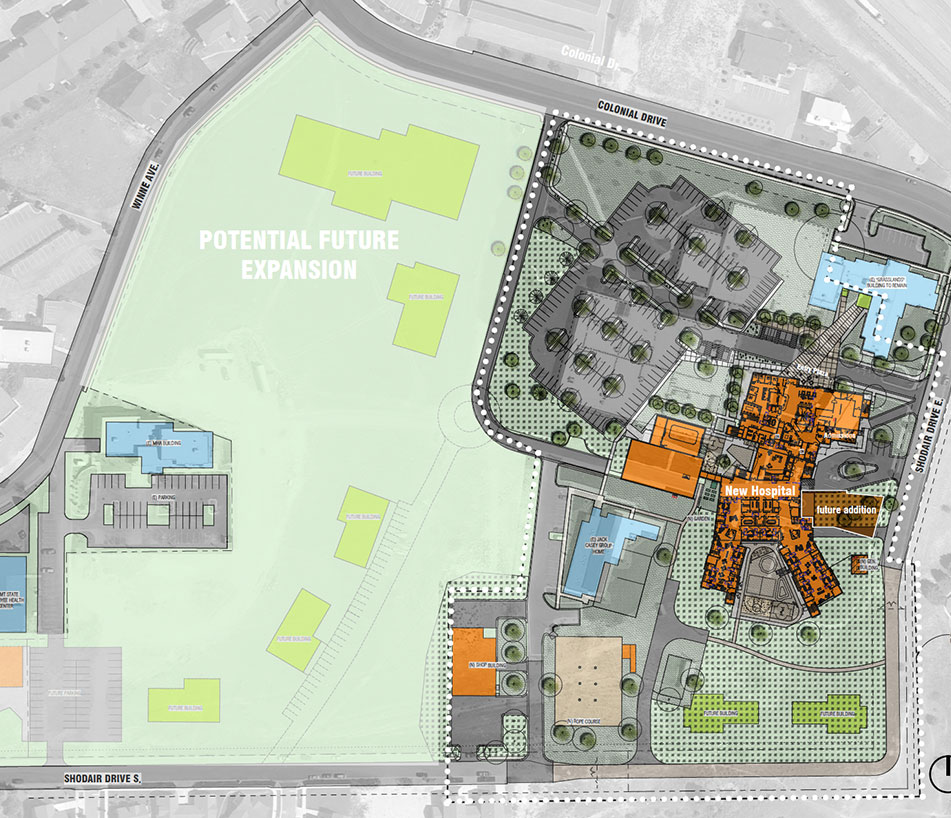 Built of Montana, for Montana
July 30, 2023
A SPACE MONTANA CHILDREN DESERVE
Now just months away from the opening of Shodair's new hospital building, it's easy to grasp the vision of what's to come: The hundreds of patients Shodair will be able to welcome each year. The deliberate sense of comfort and safety children in crisis will experience in therapeutic spaces designed just for them. The ease at which providers will be able to move in and out of their workspaces to better engage with patients. From the very beginning, Shodair set out to create a building that Montana children deserve – a space that is intentional, open, safe, flexible, and hopeful. And now, after five years of collaboration and 18 months of construction, we're starting to see that dream come to fruition. With the help of patients, families, doctors, donors, and everyone in between, we're proud to be continuing our work in a space that not only more strictly focuses on patient care, but one that is equal to the quality and creativity of our care here at Shodair.
As we prepare to open our new hospital building on January 31, 2023, we invite you to take an inside look at our new therapeutic spaces, intentionally designed to bring hope, healing, and inspiration to every patient, family, and team member that walks through our doors. Welcome to Shodair!
PATIENT ROOMS
Eighty-nine percent of our new building focuses on direct patient care, and at the core of that are 82 individual patient rooms and bathrooms. An increase from our current 74 beds in 44 semi-private rooms.
Created by patients for patients, each room was intentionally and thoughtfully designed to allow for more privacy, increased safety, and an overall hope-filled atmosphere – and that's exactly how you feel walking into these beautiful, open-concept rooms. Painted in calming colors and anchored by a bed and private bathroom, each room features a designated workspace, a safely designed window, and less visible technology. To further increase safety and allow for autonomy and everyday comfort, the rooms also include a recessed shower head, automatic water faucets, individual temperature controls, and a built-in bench for family seating.
RECREATION & SPIRITUAL AREAS
While patient rooms allow for increased privacy, the new building also includes several flexible spaces designed to act as a "hub" for a variety of uses, both day and night. These spaces include a new and bigger swimming pool, a full-size gymnasium with sound proofing, a smudge room, spiritual space, and an adaptable movie/lounge room. Built to connect our young patients to the outside world, these designated areas contribute to a fuller therapeutic environment and add in a layer of normalcy, where patients have the opportunity to hang out and interact with children of all ages.
OUTSIDE SPACES
After speaking with providers and families, we knew the outside of our building was just as important as the inside. From the moment patients and families drive up to Shodair, they are greeted with designated walking paths, a landscaped courtyard and orchard, an open area for patient play, and a future 600-space parking lot – all areas designed to help create a more seamless and less intimidating transition.
As a part of our therapeutic program, patients are encouraged to make use of other outside spaces, including a ropes course centered around team building, a garden designed to teach patients about healthy eating and farm-to-table concepts, and various area hiking trails used for recreation.
PROVIDER WORKSPACES
If there's one overwhelming lesson we've learned in the past century, it's this – a more hopeful team leads to and inspires more hopeful patients. When designing our new building, we knew it was just as important to build improved therapeutic spaces for our staff as it was for our patients. Enter our newly designed workspaces!
With a single office space costing $35,000 and often sitting unoccupied and creating unnecessary walk times for our providers, we opted to build $4,000 workspaces instead. Designed to meet provider efficiency, each workspace is equipped with all the necessary office supplies, sits catty-corner to nearby private meeting rooms when needed, and is located near patient care – allowing for an easier back-and-forth commute between provider and patients. Did we mention the incredible outside balcony and mile-long mountain views?
LOBBY & CAFE
We're firm believers that supporting Montana families will always be a community effort. That's why our new building offers a café and coffee bar open to the public in the future! While patient areas will always remain secure, families, friends, and community members are encouraged to stop by the café any day of the week to refuel with a cup of coffee, sit down for lunch, grab a snack to go, or take advantage of Shodair's full catering services.