Treatment Approach
. . .
Shodair Children's Hospital emphasizes comprehensive biopsychosocial evaluations, child-centered family therapy, and collaboration with parents, community providers, and educators. Shodair Children's Hospital is currently becoming a trauma-informed facility through the Sanctuary Model.
What qualities characterize a certified Sanctuary Model organization?
A sanctuary program should be a strong, resilient, structured, tolerant, caring, knowledge-seeking, creative, innovative, cohesive, and nonviolent community where staff are thriving, people trust each other to do the right thing, and clients are making progress in their own recovery within the context of a truly safe and connected community.
People recognize that safety and comfort are not necessarily the same thing – we need to have safe and nonviolent conflict, but that often means we have to be uncomfortable with the process of change.
Tangible results of a sanctuary community include decreased staff turnover, decreased use of coercive measures, decreased critical incidents, staff injuries, and client injuries, greater client and staff satisfaction, and more innovative problem-solving.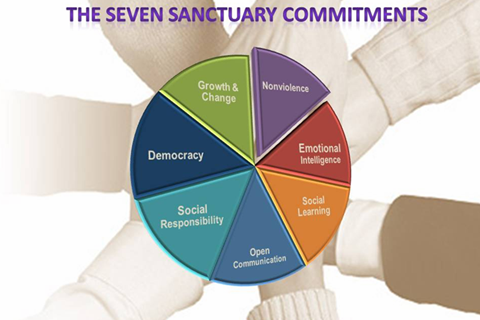 Ultimately, people who come into a sanctuary community – everyone seeking services as well as the people who work there – are offered an opportunity to have corrective emotional, relational, and environmental experiences.