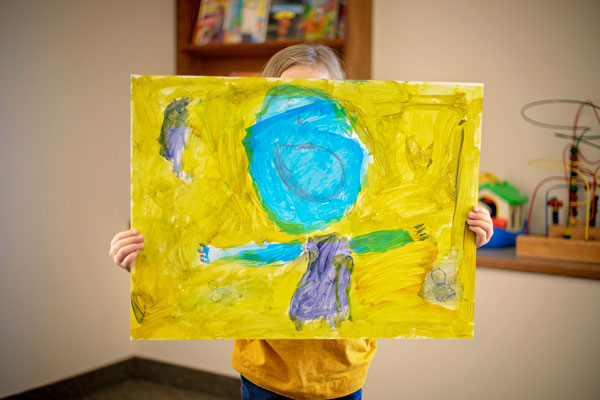 "No matter how loud I yell, no one hears me."

Painting by Shodair Patient
We can't change their trauma, but we can help heal their future.
Shodair is creating a healthy and hopeful Montana through specialized psychiatric care for children and adolescents.
Shodair provides treatment for children dealing with mental illness and other conditions that impact their health and well-being. We are the only place in Montana that offers both acute and residential treatment in one location. This gives patients and their families the treatment options they need in one place, close to home.
Psychiatry Services
. . .
If you have a child in crisis and in need of evaluation and stabilization, please call us directly at (800) 447-6614 or (406) 444-7521 for personal assistance.
Outpatient Services
Shodair Children's Hospital provides psychiatric outpatient services for children and families with a team of professionals that include child and adolescent psychiatrists, psychiatric nurse practitioners, registered nurses and dietitians, clinical psychologists, and licensed mental health, speech and occupational therapists. Shodair has a variety of in-person and virtual appointment times available and accepts all insurances.
There are three clinics located in Butte, Helena, and Missoula that are all accepting patients. Below are the addresses and contact number for each clinic.
FAQ's for Referring New Patients
Appointments can be made by calling 406-444-1125 and a voicemail will need to be left if outside of operating hours.
Additional outpatient clinics can be found in Missoula and Butte. 
Butte: 711 West Silver Street, Butte, MT 59701 | 406.444.1069
Helena: 2755 Colonial Drive, Helena MT 59601 | 406.444.1125
Missoula: 900 North Orange St. Suite 101 59802 | 406.444.1044
To schedule an appointment call 406.444.7521.
Acute Psychiatric Inpatient Program
Shodair's Acute Psychiatric Inpatient Program was designated in 2006 and offers intensive services for emotionally and behaviorally impaired children and their families who are in crisis. At Shodair, children and families interact with a team of specialists, including nurses, doctors, therapists, and teachers.
There are two acute care units that can accommodate up to 30 children from ages 3 to 18. The Grassland Unit has 20 beds and houses middle and high school students, while the High Desert Unit offers 10 beds for elementary school children.
The High Desert Acute Care Unit at Shodair cares for up to 10 children, ages 3 through 11, who are in psychiatric crisis.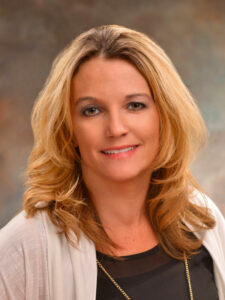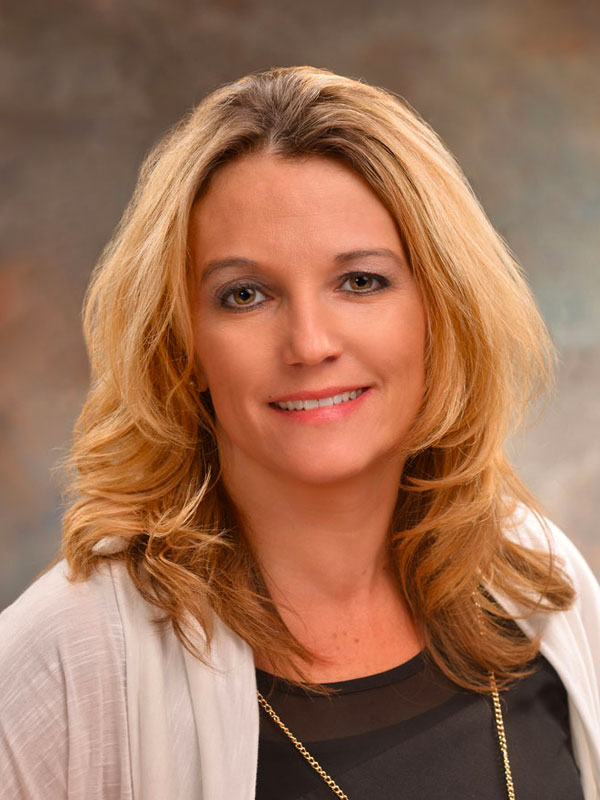 Available services include:
Medical evaluation and diagnosis

Education

Group therapies

Family therapy

Nutritional consultation

Psychological and neuropsychological evaluations

Medications

Coordination of treatment and aftercare plans with community providers
Children admitted to the Acute Psychiatric Inpatient Program are typically at great risk and can no longer be maintained safely in their communities. The program offers a safe, structured living environment for children while they receive needed professional supervision and interventions. Family involvement in the evaluation and treatment process is a program priority. Family members are encouraged to visit often and to participate in therapeutic meetings. The program goals are to help children regain safe and effective functioning, prepare children for re-entry into their homes and communities, and provide practical coordination of resources for continuing care.
Child & Adolescent Residential Treatment Programs
Shodair Children's Hospital provides two developmentally specific residential treatment programs for children and adolescents. Each program provides a safe, therapeutic, and nurturing environment to promote positive change.
The 20-bed middle school residential program provides psychiatric treatment for middle school-aged youths ages 12 to 14.

The adolescent residential treatment unit (ages 15 to 18) has a capacity to provide care for up to 24 adolescents.
Glacier is a program with 24 beds and is for adolescents aged 14-18. Most patients stay in Glacier for about two to four months, but the length of time may change depending on many factors. Your child's treatment team will keep you informed about the length of stay and discharge planning.

Each residential treatment unit is staffed by a full-time fellowship trained child and adolescent psychiatrist, master's prepared child and family therapists, a program director, complementary nursing staff, recreation therapists, a music therapist, and teachers. Consultations are provided by a neuropsychologist, speech and language therapist, nutritionist, and occupational therapist. History and physical examinations and additional consultative medical services are provided by FNPs trained in pediatrics and internal medicine.
The Psychiatric Residential Treatment team at Shodair Children's Hospital emphasizes comprehensive biopsychosocial evaluations, child-centered family therapy, and collaboration with parents, community providers, and educators.
The length of stay in residential care depends upon the severity of illness, diagnostic complexity, and family and community resources. The goal for each child is to help them return to their community as soon as they are able to participate safely in a comprehensive treatment program in their home environment.
Case Management
Case Management is a service provided to families and clients to help support mental health needs. Case Management supports clients and families by putting the best services in place to help each client and family achieve success through various forms of treatment. Case Management coordinates and monitors each case and makes referrals that are necessary to drive treatment direction towards a positive goal.  Case Management is Medicaid funded service with an emphasis on providing the best quality of care to clients and their families.  Case Managers coordinate with all community and mental health providers to ensure client has all the necessary services set in place for positive outcomes.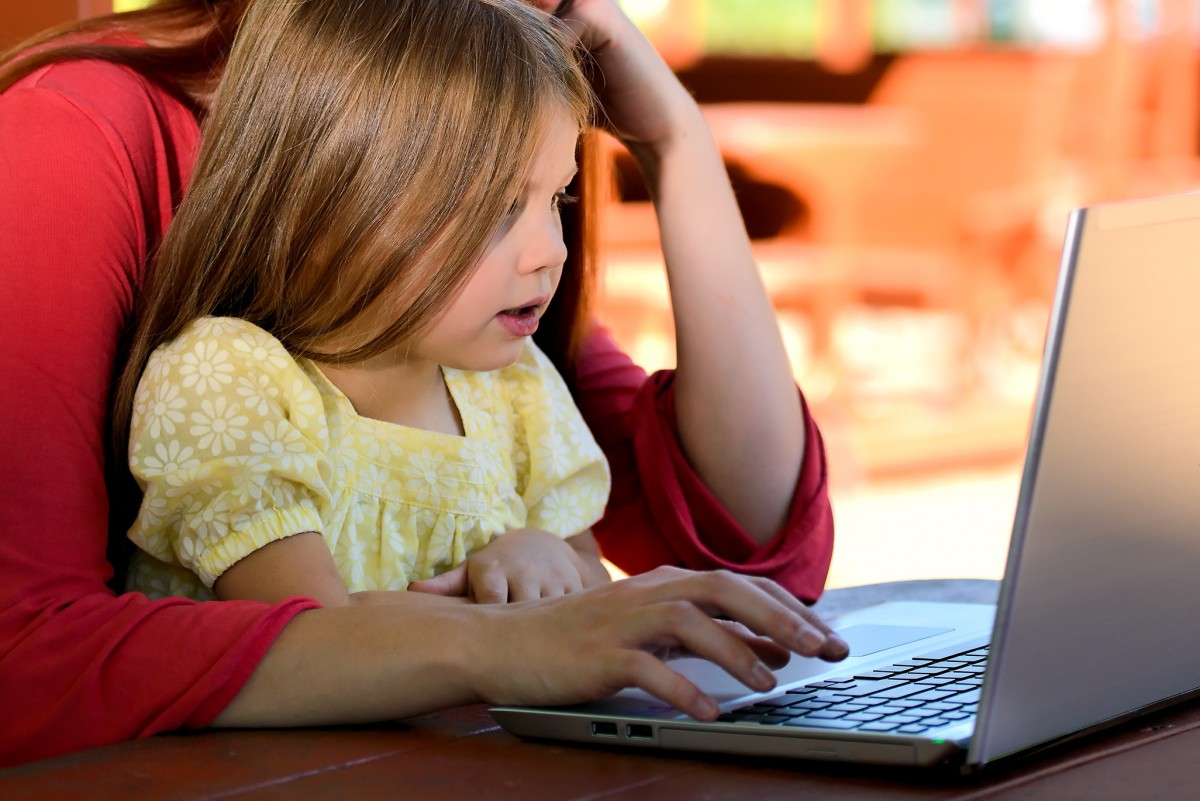 Allied Therapy Department
The Allied Therapy Department provides therapeutic services in collaboration with all the disciplines at Shodair Children's Hospital that promote the well-being of children by focusing on their strengths and supporting character development to create a positive vision for their future.
Shodair is committed to fostering growth and change by allowing our patients to experience distressing emotions in a safe, nonjudgmental environment while working to maintain a democratic approach to therapeutic services so that patients feel empowered to make choices regarding their own treatment.
Each child is given the opportunity to partake in a range of therapeutic activities offered by the Allied Therapy Department. Our department includes recreation therapy, music therapy, and activities.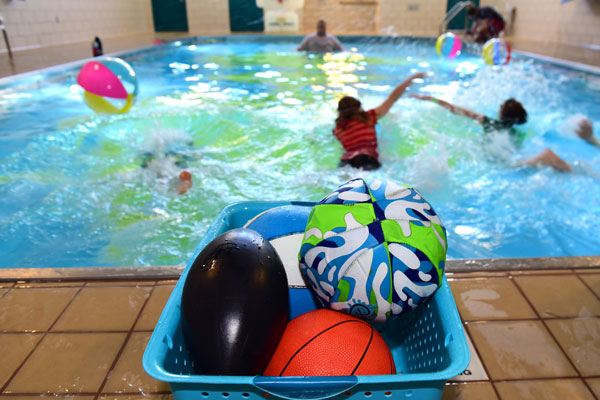 Shodair Children's Hospital employs four full-time certified therapeutic recreation specialists (CTRS). Each unit at Shodair has a "home unit therapist" who facilitates group therapy. The children see a CTRS at least once a day, seven days a week.
Therapeutic recreation is an active treatment offered in a group setting that works to improve the health and well-being of children through leisure and recreation. Based on the specific needs of the patient, recreation specialists develop creative and instructive groups that are focused on:
Cognitive stimulation

Social skills

Leisure education

Coping skills

Symptom management

Teambuilding

Adventure therapy

Stress management

Exercise/physical fitness

Community reintegration

Problem solving
Our therapists work with an interdisciplinary team to help children reach individualized goals. Participation in recreation therapy groups improves children's social skills; decision making and judgment; frustration tolerance; ability to handle conflict; use of coping skills; and appropriate expression of feelings, all while building their individual strengths.
These skills will encourage patients to be an active participant in their life while promoting healthy choices and building lifelong skills.
Activities assistants not only support the recreation therapists on staff, they also lead any number of groups throughout the day. It is their responsibility and goal to transfer and repeat many of the skills taught by recreation therapists to help patients pattern good habits into their daily lives.
The AA crew also runs recreation-based special events. They help patients try on tuxedos for the Shodair Prom, run special monthly activities such as Survivor and The Shodair Olympics, lead outings, and help improve patients' creations for our Iron Chef competition.
Additionally, activities assistants provide instruction and coaching on Shodair's Challenge Course. This challenging, trust-based environment opens patients up for development through their own vulnerability. Further, the Challenge Course provides ample opportunity for objective-driven education. Challenge Course staff connect group goals and objectives to different activities throughout the experience by posing questions that prompt self-reflection and teamwork. A group debriefing at the end of each session provides reflection on lessons learned and experience gained through the elements completed that day.
CSCT Learning Center
Comprehensive School and Community Treatment (CSCT) is a mental health service provided in a school setting. Therapy can be provided in the classroom, in an office, in the community, or in the child's home. Therapy is billed to the student's insurance.
CSCT staff work with the school team to increase your child's success in the classroom. Individual and group therapy is provided during the school day. The therapist will work with you to schedule time for family therapy.