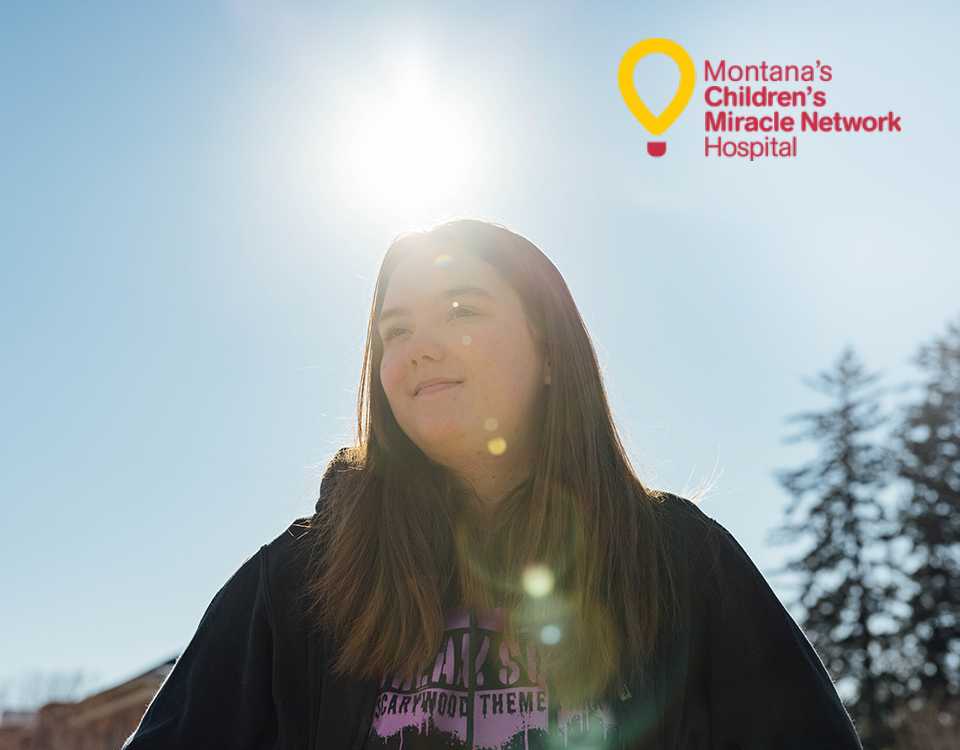 A Network of Miracles, A Community of Hope
August 7, 2023
A Resounding Patient Voice
Each year, Shodair receives more than 17,000 patient appointments. That's thousands of hopeful lives that walk through our doors, families we get to interact with, and voices fighting for a better future. As such, it's not our imprint that you'll find echoing through the hallways of our new space, but theirs. From the structural beams that bare patient's handwritten names – literally holding the building up – to the time capsule buried underneath the Hope Space and filled with favorite quotes, poems, and lyrics, Shodair's new hospital was carefully and intentionally built on the resounding voices of those who matter the most – our patients.  
Of those voices is Montana-native and self-proclaimed "softball mom" of six, Jennifer Beisecker. The Beiseckers became a part of the Shodair family back in 2013 and represent one of the many patient/family voices that were involved in the planning process of our new building. Here's a glimpse into Jennifer's journey and the important role she played in the future of Shodair. 
Tell me a little bit about your experience with Shodair.
In 2013, when our son was 10, he was having feelings of wanting to hurt himself. As parents, we didn't know what to do at the time, but we knew we had to do something beyond what we could offer. I had heard about Shodair Children's Hospital and one night decided to dial their 1-800 number. To my surprise, they said we could come in that night, so off to Helena we went. Including that evening, my son was admitted to Shodair's acute unit a total of 3 times. 
How were you involved in the process of Shodair's new building project?
Being a previous patient, Shodair called our family one day asking if we would be willing to provide input on their new hospital. We, of course, said yes. While it's easy for those who work at Shodair to become comfortable with the process, as a new patient and a mom who had never walked through anything like this, it was overwhelming. Often, when visiting our son, we just didn't know what to do. That said, being on the other end of it now, we knew we could help provide important feedback and pave the way for future patients. 
Overall, how important is past patient/family involvement to the building process?
Hearing from somebody who has been a part of Shodair as a patient and a parent helps the organization see a side they maybe otherwise wouldn't. We're not looking at it as an architect or a doctor; we're seeing it through a practical lens and through experience. Shodair reaching out has been neat for us, too. It's given us the opportunity, as a family, to look back and reflect on where we were then versus where we are now (which is a really good place – my son is in college and thriving)! We're really thankful for where we're at. 
How will the new building affect patients and the community?
The new building is beautiful and truly something to be proud of as a community, a state, and an organization. The work Shodair does is so important and necessary – now they have a place to do it more efficiently and effectively. Given the update, I think the new building really has the potential to inspire more of the public to utilize the services Shodair offers.
Speaking of, why should others support Shodair?
Their mission is so necessary; they work to help people that others overlook. Not only did they care for our son while he was there, but they helped us find resources and bridge the gap between patient and community when he returned home. In our world where anxiety is at an all-time high, it's so important to have a place where parents like me can get help for their kids in a way that we wouldn't be able to do on our own. Shodair was that first place for us along our journey.