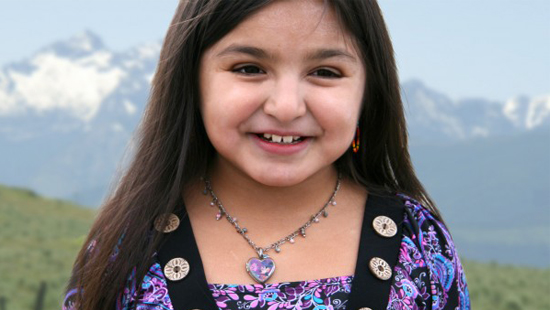 Sotara Barnaby – 2011
January 22, 2019
Landen Phillips – 2013
January 22, 2019
Samantha Faulkner, 2012
. . .
At one month of age, Samantha was diagnosed with collagenopathy, thanks to the specialists in Shodair Children's Hospital's Medical Genetics Department. This specialized team worked with the Faulkners to clarify Sam's diagnosis and to help them set a treatment plan in motion. In 2007, Sam was diagnosed with an inflammatory myofibroblastic tumor (IMT), which reoccurred nearly a year later, and again last year. The reoccurrences were monitored by Seattle Children's Hospital and Samantha's local pediatrician. IMT is a lifelong disease requiring ongoing treatment.
Sam continues to be seen by Shodair's genetics team at outreach clinics in Great Falls, a short distance from her home in Ulm. Shodair's specialists recently further refined Samantha's genetic diagnosis to one of Stickler syndrome, a connective tissue disorder that can include retinal detachment, hearing loss, and mild precocious arthritis.
Samantha's connection to Shodair actually began before she was born. Her mother, Erin, was seen by the hospital's genetics specialists as a teen regarding her short stature. Several years later, Erin was seen again at Shodair for some answers regarding issues with her vision, hearing, and joints, leading to a diagnosis of Stickler syndrome for Erin as well.
PAST CHAMPION CHILDREN
. . .